Business & Computing
Accounting Technicians - Level 4 Certificate (Accounting Technicians Ireland - ATI)
Start Date: 18th September 2023
Code: YHPM1534A1
Essentials
Duration: 1 Year Online
Start date: 18th September 2023
End date: 21st May 2024
Day: Multiple Days (online)
Time: 13:00-16:00
Information Event: Yes

Course fees for each year.
| | Year 1 | Total Fee |
| --- | --- | --- |
| Fee | £350 | £350 |
| Reduced Fee | £175 | £175 |
Additional fees: Please note there are additional fees that must be paid directly to ATI for registration, books and exams. For more details visit ATI website.
---
Course Content
Accounting Technicians Ireland provides an accounting qualification that is recognised by industry as one of the leading accounting qualifications in Ireland. Certificate modules provide students with the key skills which are required in a business/finance environment.
You will study 4 modules:
Financial Accounting
Taxation
Business Law
Business Management
As part of the ATI qualification, you will have the opportunity to gain a Certificate of Completion in Excel.
Please note this course will be delivered fully online in September. More information will be provided at an interview/information session.
ATI offer exemptions in Level 4 Certificate. If you think you are eligible for exemptions, you will need to contact ATI directly.
To progress into Level 5 Diploma, students will need to pass Financial Accounting, Taxation and either Business Law or Business Management (3 out of 4 modules)
This qualification includes an element of work experience, which can be completed either during or after the two years of study.
The syllabus has been carefully designed to equip graduates with an array of transferable business skills, as well as technical skills for finance and accountancy practice. Ultimately, the qualification increases employment opportunities for a broad range of accounting and finance roles and could enable you to progress to senior financial management at a later stage in your career.
---
Course Aims
Accounting Technicians are qualified accounting professionals that work at all levels of finance. They can work in all types of organisations and are widely employed throughout the public sector, industry and commerce as well as accountancy firms.
---
Special Features
All applicants will be required to attend an online information session.
The college will send out invitations to applicants, to attend the information session, which will be held via Teams.
It is planned that the online information sessions will be held on the following dates:
Thursday 2 March 2023 @ 7.00pm
Thursday 30 March 2023 @ 7.00pm
Thursday 27 April 2023 @ 7.00pm
Thursday 25 May 2023 @ 7.00pm
Thursday 29 June 2023 @ 7.00pm
Thursday 31 August 2023 @ 7.00pm
Thursday 7 September 2023 @ 7.00pm
---
Assessment Methods
Assessment is 100% exam based with an online exam for each module to be undertaken in May/June 2024. Students will have the opportunity to resit modules in August 2024. Students register for exams via the ATI online portal.
---
Students from Northern Ireland should possess:
• Either 1 A-level or 2 AS-levels
• With grades in English, and Maths or Accounting, no lower than Grade C at GCSE level
If you are over 21 years of age but don't possess the minimum educational requirements, you can still register as a mature learner, based on age and experience.
Prior Learning may also provide an entry route for applicants who do not meet any of the above criteria. Those who have successfully completed a nationally recognised qualification such as a QQI award in the Republic of Ireland, or QCA and BTEC National Diploma in Northern Ireland, may be eligible to register.
Students from Republic of Ireland should possess one of the following:
• 5 Ordinary level Leaving Certificate grades (including an O6 in English, and Maths or Accounting)
• 2 Higher level and 2 Ordinary Leaving Certificate grades (including an O6 in English, and Maths or Accounting)
In circumstances where there are more applications for the course than there are places available, the College reserves the right to select candidates from those achieving the highest grades.
---
Upon successful completion, as an accounting technician you may apply to work for many types of organisations such as banks, insurance companies, accountancy firms or local government, or you many continue your studies on the Level 5 Diploma in Accounting Technicians.
---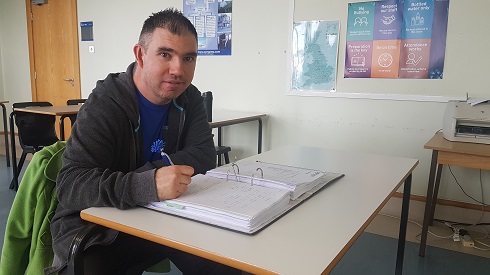 Ciaran Scott

Ciaran Scott from Magherafelt, is currently unemployed and self-funded. He has already a BTEC Level 3 Computing in 2002, completed a HND in Software Engineering Ballymena.
He has had a variety of different jobs in software development but more recently was working in an office doing administration work. He decided to enrol on the Level 4 Certificate in Accounting Technician to improve his employability – although he admits that he is concerned about the exams.
Ciaran, "I'm not good at exams but I'm good at numbers and hope that this Higher Level Apprenticeship could lead to employment."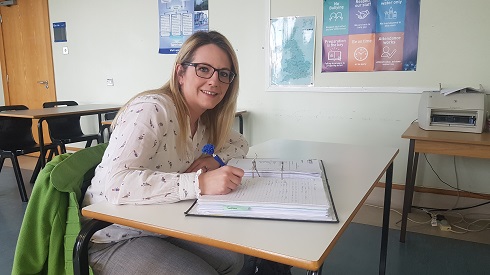 Kara Mitchell

Kara Mitchell is an Accounts manager with KDM Hire Ltd in Cookstown and is sponsored by employer for the Level 4 Certificate in Accounting Technician.
Kara admits that it took her a while to figure out what she wanted to do but now that she's studyinging the Level 4 Certificate in Accounting Technician (ATI), feels that she has it sussed.
Kara explains, "I think you appreciate the opportunities when you are older – because you are doing something because you want to do it, not because you think you should."
After doing GCSEs in St Mary's College Maghera, Kara started a Level 3 Diploma in Health and Social Care at Magherafelt but a year and a half into the course was offered a job as a classroom assistant in the school where she was doing a placement.
Kara continues, "I moved to Scotland and did a HND in Legal Service which was a stepping stone to doing a Law degree at Dundee University but wasn't settled and came back to Northern Ireland with the intention of finishing the Law degree on a part time basis at Jordanstown.
In the meantime though I got a job in an accounts office and switched to doing accounts instead of Law at university but quickly doing realised it wasn't not me. Nothing I was doing in class seemed relevant to what I was doing with work. It was all too general. I decided that I wanted to get a qualification in Accounts and the ATI is the perfect way for me to do this.
The modules are very specific and the course is practical and relevant to my job but it also hard work. I'm getting married this summer and want to have a piece of paper – the ATI is an ideal way to get into accountancy with the right balance of practice and theory. It's tough going but I'm doing it because I want to do it and I think that makes a big difference."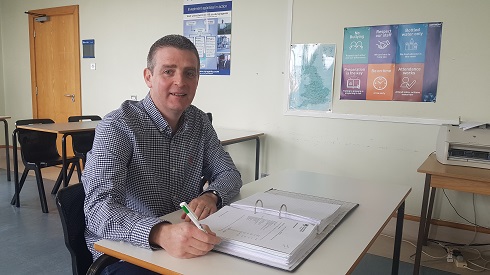 Paddy McEldowney

Paddy McEldowney, is Chief Executive of Easilink Community Transport, and decided to enrol on the Level 4 Certificate in Accounting Technician as he knew it was well recognised and he wanted to freshen up his CV.
Paddy explains, "One day a week I attend Magherafelt from 1pm to 8pm. It is intensive balancing study with work so it is a big commitment working towards exams but I hope that it will pay off. My employer sees the value of having well qualified and committed staff and is paying the course fees. The support is so important and much appreciated."
He continues, "Whenever friends and family ask me why I'm doing the course, I explain that while it is difficult and involves a lot of work, it is enjoyable and hopefully hard work will pay dividends."