Business & Computing
Business - Level 4 HNC (Pearson)
Start Date: 19th September 2023
Code: YHPX1996A1
Essentials
Duration: 2 Years Part-time
Start date: 19th September 2023
End date: 3rd June 2025
Day: Tue
Time: 09:00-17:00
Information Event: Yes

Course fees for each year.
| | Year 1 | Year 2 | Total Fee |
| --- | --- | --- | --- |
| Fee | £550 | £550 | £1100 |
| Reduced Fee | £402 | £290 | £692 |
Fees are payable annually.
The fees for year 2 may be subject to change.
---
Course Content
If you are an aspiring manager or are thinking it's time for a career change, the Pearson BTEC Level 4 in Business is a university, higher level qualification which will help you achieve this goal. Major blue-chip companies IBM, Worldpay, Tesco and UK universities have been involved in the design of this programme and it is recognised as a milestone towards progression. On completion of the HNC Business, you will have the knowledge, skills, and confidence to participate in management meetings and projects that require you to:
Analyse financial budgets and financial statements to inform decision making
Draw up Project Management Plans, review and monitor projects
Engage with HR regarding resourcing issues, recruitment, training and development for your department
Benchmark your business' marketing activities against competitors and make an informed contribution to the development of future campaigns
Personally, you will develop the ability to flex your management style, to problem solve, present confidently online, in person at a meeting or to an audience
Over the two years of the course, you will study 8 units
Business and the Business Environment
Marketing Process and Planning
Human Resource Management
Leadership and Management
Accounting Principles
Managing a Successful Business Project
Entrepreneurial Ventures
Business Law
Lecturer Support
We understand the concerns of our adult students about returning to education and are committed to supporting you during your studies. We have created a safe environment where you are encouraged to ask for help in class or if you prefer to email us outside class to get clarification on what you need to do to complete an assignment or to receive feedback on draft assignments.
Additional Costs and Requirements
Access to PC/laptop with camera, microphone and internet. Please note you will have free access to Office 365.
We have excellent online resources on our digital learning platform, Canvas and therefore it is not necessary to buy a textbook.
Other Important Information
Visit studentfinanceni.co.uk to check your eligibility for a part time higher education grant which in the past many of our students have been able to avail of.
---
Course Aims
The aim of the Pearson BTEC Level 4 HNC in Business is to see you progress into a managerial role, by building your capabilities so that you are seen as an independent thinking, decision maker with the confidence and skill set to manage a team, a budget and to deliver on key business objectives.
---
Special Features
Learners wishing to progress to Ulster University's part time BSc Hons Degree in Business Studies receive very generous exemptions.
Upon successful completion of the HNC Business you are eligible for Foundation Chartered Manager status, awarded by the Chartered Management Institute (CMI). Foundation Chartered Managers can use the initials fCMgr after their name.
Many learners on this course are eligible to apply for part-time Higher Education grants that cover 100% of their tuition fees.
---
Course Update
Please note that due to ongoing major campus construction projects courses at Ballymena, Coleraine and Ballymoney may be relocated to alternative suitable locations as required.
---
Applicants must be sufficiently competent in English Language and Numeracy, have obtained a BTEC level 3 Diploma in Business or Administration or a BTEC level 3 Diploma of any other title; or at least one GCE A level pass together with three other GCSE (or GCE O Levels) at Grades C or above; or ILM level 3 or CIPD level 3 or other relevant qualifications.
Applicants who are non-English speakers must be qualified to either Communicator; Common European Framework of Reference (CEFR) Level B2 PTE 51 or IELTS 5.5 (Reading and Writing must be 5.5).
Where mature students wish to have prior education and/or experience taken into account, in lieu of meeting the full course entry requirements, they should contact the relevant Course Director or Admissions by 12th August, as an application deadline will apply. It is at the College's discretion to consider APEL enquiries after the dates stated.
In circumstances where there are more applications for the course than there are places available, the College reserves the right to select candidates from those achieving the highest grades.
---
The HNC Business is widely recognised by employers and universities in the UK, Republic of Ireland and overseas. It is a level 4 qualification, the equivalent of the first year of university and is worth 120 credits under the Framework for Higher Education Qualifications (FHEQ).
The ultimate goal of this course is to provide aspiring managers like you, with the knowledge and skills to progress to supervisory/managerial positions within private and public sectors organisations. It also enables you to progress to the part time BSc Hons Degree in Business from Ulster University, which you can study through the Northern Regional College. Furthermore, most professional bodies in the business and administration fields grant exemptions to holders of BTEC Higher Level qualifications.
---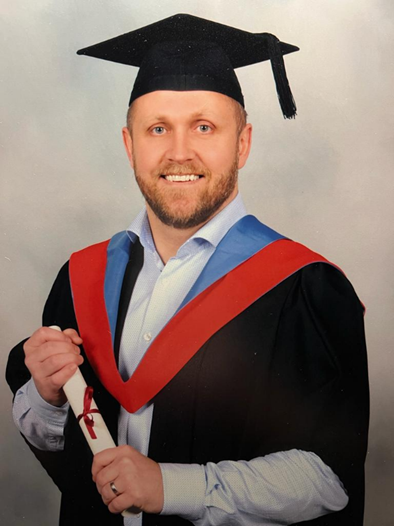 Aaron Mulvenna

Aaron successfully graduated from the Business – Level 4 HNC within a matter of months. He was the successful candidate for the position of Head of Health, Safety and Compliance within Agri-Food and BioSciences Institute (AFBI).
AFBI is a leading provider of scientific research and services to government, non-governmental and commercial organisations.
Speaking about his new position Aaron said "the academic skills that I gained on the HNC in Business were a factor aiding me to display my own experience in leadership, strategic oversight, budget and project management amongst other key components a successful leader requires in today's evolving workplace ecosystems"
Trostan Avenue Building
Trostan Avenue
Ballymena
BT43 7BN
028 2563 6221
Contact
Admissions Send email