Art and Design, Media & Performing Arts
Creative Media (Web and App Development Pathway) - Level 5 Higher National Diploma
Start Date: 13th September 2021
Code: PHFC01878
Higher Education
Full-time
Coleraine
Course Information
We are currently not accepting applications for this course. To make an enquiry or register your interest please email the course contact below. Applications for 2022/23 will open in January 2022.
Essentials
Duration: 2 Years Full-time
Start date: 13th September 2021
End date: 5th June 2023
Information Event: Y

Fee for 2021/2022 Academic Year:
£2500
---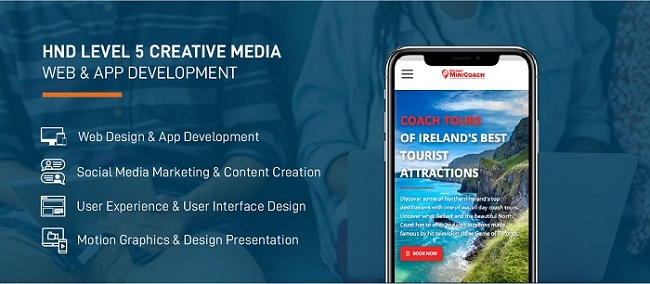 This new exciting 2-year higher education course is designed to upskill students in the interactive digital technology required by many organisations in the modern workplace.
Typical students on our new Higher National Diploma may be progressing from further education, reskilling for promotion opportunities within their existing company or seeking a career change into this rewarding vocational area. The course will be delivered by industry professionals who each specialise in the subjects they teach.
Throughout the duration of the course, you'll work on live projects for key stake-holders from industry. Previous students have worked on live briefs for the PSNI, The British Council, Coach Hire & Tour Industries and a range of projects for small to medium businesses right through to large scale enterprise organisations.
---
Course Content
You will study subjects including Web & Interaction Design, User Experience & Interface Design, Application Development and Professional Practice within the creative media industry.
Learn how to make professional standard interactive websites, design and build applications for desktop, mobile and smart devices, design interaction focusing on user centric design and how to effectively create and deploy social media marketing strategies for self-promotion.
Core skills you will learn on this course include:
Visual Communication & Graphic Design
Design Methodology
Idea Generation and Digital Product Design
Motion Graphics and 2D Animation
Personal Brand Identity
Project Management
Digital Marketing/Social Media Marketing
Content Writing
Digital Photography/Digital Video Production
Entrepreneurship & Professional Development
NEW Gallaher Trust Scholarship
The Gallaher Trust Scholarship aims to improve educational and employment opportunities for young adults (18+ years) living within the wider Ballymena area (BT42/BT43 and some areas within BT44).  The Gallaher Trust will pay course fees of up to a maximum of two years. Details including selection criteria and conditions are outlined within the application form. Completed application forms must be submitted to scholarships@nrc.ac.uk by 16 August.
---
Special Features
Additional to course content being delivered by industry professionals, our lecturers have built up a network of industry contacts who contribute to the course structure, deliver guest lectures and provide placement opportunities for students. Our close working relationships with other industry professionals allows us to ensure that we're delivering the most relevant and current training that the Creative Digital Media industry requires. HND students will embark upon work experience within the industry in semester 2 of year 2.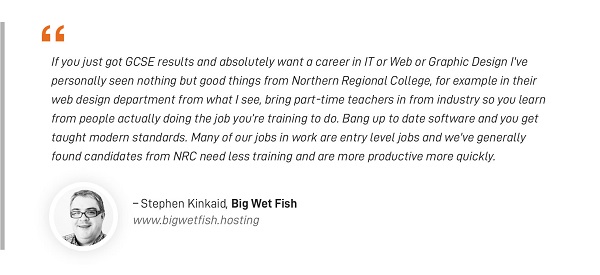 ---
Assessment Methods
As well as classroom support, you will have access to interactive learning materials on the college's digital learning environment (DLE). This enables students to access learning materials both inside and outside of the classroom.
Assessment will be carried out via real and realistic projects and there will be no exams. If you want to join the expanding number of industry professionals that graduate from the college's digital interactive media department, then apply now.
---
A BTEC Level 3 qualification in Creative Media, Games Design, Animation or Computing/IT.
A GCE Advanced Level profile that demonstrates strong performance in a relevant subject or adequate performance in more than one GCE subject. This profile is likely to be supported by GCSE grades at A* to C (or equivalent).
Other related Level 3 qualifications.
An Access to Higher Education Certificate awarded by an approved further education institution.
Related work experience.
An international equivalent of the above.
Where mature students wish to have prior education and/or experience taken into account, in lieu of meeting the full course entry requirements, they should contact the relevant Course Director by 10th August, as an application deadline will apply.
---
Upon successful completion of all year one modules, students will achieve a full Level 4 HNC award. On completion of all year 2 modules, students will leave the course with a full level 5 HND diploma. Typical progression routes would be to University in a related subject area or students may secure employment within the creative media industry.
Past students have found employment before the end of year 2 through placement opportunities and other industry contacts from the course.
---
Beresford Avenue
Coleraine
BT52 1HJ
028 7035 4717
Contact
Darren McGinley Send email
Alternatively it is available at the following campus.