Art and Design, Media & Performing Arts
Music (Production) - Level 5 HND
Start Date: 13th September 2021
Code: PHFC01031
Higher Education
Full-time
Coleraine
Course Information
We are currently not accepting applications for this course. To make an enquiry or register your interest please email the course contact below. Applications for 2022/23 will open in January 2022.
New Course
Essentials
Duration: 2 Years Full-time
Start date: 13th September 2021
End date: 19th June 2023

Fee for 2021/2022 Academic Year:
£2500
---
The Level 5 HND in Music (Production) is an exciting new course being launched at our Coleraine campus. Through a rewarding and challenging combination of vocational and academic projects, this course will prepare students for an exciting and fulfilling career in the music industry.
---
Course Content
Our HND in Music (Production) course offers students an opportunity to gain a wide range of sector knowledge, along with practical skills gained in research, self-study, directed study and workplace scenarios.
Students have full use of our outstanding facilities and the support of highly skilled and experienced staff who will keep them up-to-date with the latest emerging technologies and cutting edge approaches, whilst also honing and perfecting technical skills. As developing professionals in music production, this course enables our students to stay ahead of the competition with the best training, experiences and opportunities available.
This course aims to allow learners to:
Gain practical skills in music production to the highest professional standard.
Become technically proficient in using a wide range of music technology.
Be proficient in audio mixing and mastering to industry standard.
Use the recording studio as your creative environment.
Develop collaborative skills within a creative environment.
Develop the skills required to be a successful freelance professional in the Music & Creative Industries.
Develop a clear understanding of the various career paths and opportunities available in the Music Industry.
Develop a professional attitude to working within the Music and Creative Industries.
---
Course Update
This course is subject to approval
---
You should have one of the following:
A BTEC Level 3 or equivalent in a related discipline with a minimum merit profile
Passes at grade C or above in at least 2 A levels (80 UCAS tariff points) in relevant subjects
Consideration will be given to mature learners who have relevant experience in a related area.
---
Completion of this course will allow successful applicants to progress to degree level courses including:
BSc (Hons) in Music Technology
BA and BSc (Hons) in Music Business
BA (Hons) in Songwriting
BA (Hons) in Professional Musicianship
BA (Hons) in Commercial Modern Music
BA (Hons) in Music Production
---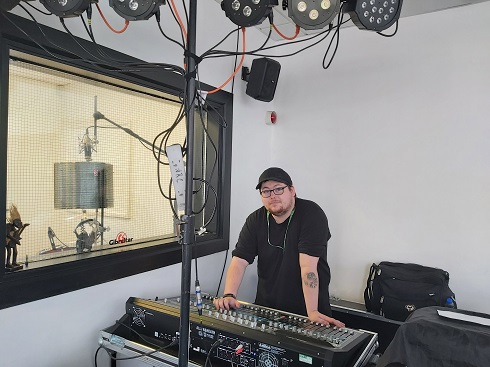 Thomas Craig

Thomas enrolled for the Level 3 in Music course after he discovered working with music helped him with his mental health wellbeing by keeping him calm and relaxed. Now just finishing his second year, he has never looked back and his passion for music has grown. He now plans to continue his music studies and enrol on the new HND Level 5 course.
"I have really loved my time on the music course especially second year where I have experienced working with various instruments such as the guitar, bass and piano. College life is so different to school, you have more creative freedom to complete your studies. I would 100% recommend this course to others and my music lecturer is the best teacher I have ever had!"
Thomas plans to become a sound engineer.
Beresford Avenue
Coleraine
BT52 1HJ
028 7035 4717
Contact
Frankie McEldowney Send email