Home / Businesses / Consultancy
Consultancy
Your business could achieve a real economic benefit from our commercially-focused consultancy services. Our industry experts can review your business processes to inform training requirements, help reduce costs, support product development and innovation approaches or review quality assurance processes. Contact us now.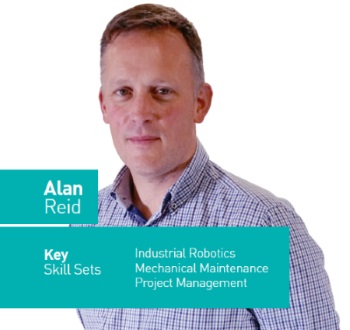 With 24 years'; experience in industrial robotics, Alan Reid is considered one of the country';s leading robotics specialists. Specialising in CLOOS, IGM, ABB, Universal Robotics and Kawasaki systems, he has delivered robotics solutions for leading engineering and manufacturing companies.
Alan also teaches fabrication, robotics, maintenance up-skilling, application of mechanical systems, measurement and inspection, CAD, H&S, materials C&G Level 3 units 1&2, 1,2&3 hydraulics and pneumatics, maths, science, interpreting engineering information and operation of CNC fabrication equipment.
Alan';s pervious employers include AVX, FG Wilson and Mathbro. Former roles include Fabrication Manager, Senior Industrial Engineer and Engineering Group Leader. Alan is qualified with a BEng in Mechanical and Manufacturing Engineering, and a Post Graduate Certificate in Education.
---
Dr David Lynn
With 21 years'; experience in Electronics and Embedded Systems Design, David has an extensive skill set that covers buildings infrastructure data cable design, video and audio transmission and processing, radio telemetry, power generation, connected health systems and IoT.
Recognised extensively in the area of connected health, David has contributed significantly to the WASTCArD research group, led by the Ulster University, Centre for Advance Cardiovascular Research.
David is one of our specialist lecturers who tailors training in electronics and embedded software to meet industry needs. He also teaches Electronics and Engineering subjects from Level 3 to Level 5 across all campuses. His previous employers include CCC Technology, Sea Containers London, Stena and Schrader Electronics. Former roles include Production Manager, Senior Design Engineer, Technical Officer, RF/EMC Designer and New Products Engineering Team Leader. David is qualified with a Master';s Degree and a Doctoral Degree in Electronic and Electrical Engineering. He also holds a Post Graduate Certificate in Further and Higher Education.