Home / Businesses / Entrepreneurship
Entrepreneurship
Entrepreneurship Hub
Following its policy commitment to develop college specialisms and regional capacity the Department for the Economy (DfE) appointed the Northern Regional College as the FE sector Hub for Entrepreneurship. In meeting the criteria for hub status, Northern Regional College is committed to act as the central lead in Entrepreneurship (incorporating occupational areas of enterprise, entrepreneurship and business leadership).
Engaging widely with the entrepreneurship ecosystem, business enterprises and the other five regional colleges to draw in the teaching and curriculum excellence and sectoral knowledge to provide a consistent and high quality provision in Entrepreneurship for learners and employers throughout Northern Ireland.
In response to the PfG draft Industrial Strategy for Northern Ireland DfE launched Economy 2030 which identifies five priority Pillars for growth:
Accelerating Innovation and Research
Enhancing Education Skills and Employability
Driving Inclusive, Sustainable Growth
Succeeding in Global Markets
Building the Best Economic Infrastructure
The key outworking of the college Entrepreneurship Hub is its contribution to the enablers identified in pillar one and two, namely driving cultural change, strengthening the innovation entrepreneurship ecosystem, and ensuring we have the necessary skills pipeline to meet business needs now and in the future. In doing so, this will also impact on the remaining pillars (three-five).
As the FE Sector Entrepreneurship Hub lead, the College has adopted the following DfE Hub objectives and developed a three year Entrepreneurship Hub Action Plan:
To provide curriculum advice and development in entrepreneurship;
To identify and develop continuing professional development in the field of entrepreneurship;
To increase entrepreneurial economic engagement;
To communicate the activities of the entrepreneurship hub; and
To provide stakeholders with future entrepreneurship scoping analysis.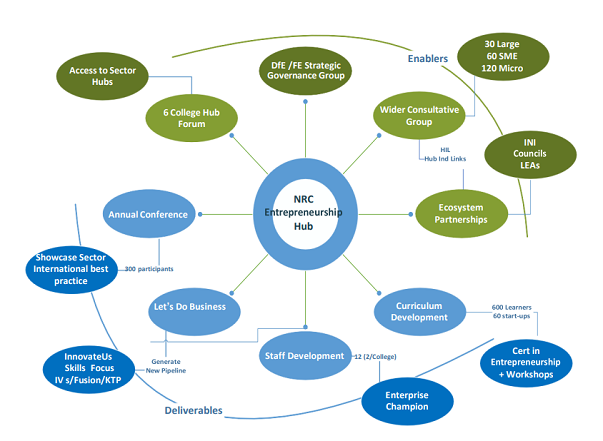 The Entrepreneurship Hub will raise standards in enterprise, entrepreneurship, business and leadership. Northern Regional College will draw on international best practice and embed digital learning to enable students and staff to build entrepreneurial leadership competencies required to be successful citizens, employees and employers contributing to DfEs policy commitment in rebalancing the Northern Ireland economy.
The Entrepreneurship Hub will continue to:
Establish the FE Entrepreneurship Hub Forum (EHF)
Map curriculum delivery in Entrepreneurship across the sector
Lead the review of professional competencies required to develop Entrepreneurship courses and services
Identify digital learning resources to support CPD for staff
Establish an Entrepreneurship Hub Industry Links group (stakeholders and employers (EHIL)
Promote Entrepreneurship through the Let's do Business brand
Deliver an Entrepreneurship showcase conference
Through the Entrepreneurship Hub the college is working with staff from other colleges, awarding bodies and wider entrepreneurship ecosystem to map and develop formal pathways to recognise Entrepreneurship skills. For example, Entrepreneurship content can be delivered through:
A unit /module contained within an existing qualification (Level 3 Business Studies unit Start a Small Business' or BSc Business Studies module in Leadership and Change)
A separate or additional qualification or unit (OCN Level 2 Award in Innovation and Enterprise in Practice/ILM level 3 Leadership & Management/OCN Level 4 Certificate in Innovation and Enterprise in Practice)
Embedding project-based learning, case-studies, assignments and projects as part of a qualification unit
Wider student experience without official accreditation (business planning competitions, guest speakers, international mobility projects etc)
By mapping entrepreneurship skills, gained through these pathways, to national occupational standards and international frameworks the Entrepreneurship Hub will develop a range of new qualifications at Level 3+ in Entrepreneurship.
Staff Competencies
A renewed focus on the development of Entrepreneurship skills will impact on college staff competencies and an associated Continuous Professional Development programme is a major element of the Entrepreneurship Hub Action Plan.
Some argue that entrepreneurs, and for that matter leaders, are 'made not born' and the merits of this statement is hotly debated amongst academics, business leaders and wider society. What is not in question is that entrepreneurship skills can be developed in an educational setting as well as in the real world-of-work, and the earlier and more often they are practiced the better individuals are in deploying them.
The terms Enterprise, Employability and Entrepreneurship are often used in an interchangeable way, however a distinct difference can be drawn. While at college students will develop significant enterprising and employability skills through their course of study. Entrepreneurship on the other hand focuses on 'the application of enterprise behaviours, attributes and competences into the creation of cultural, social or economic value. This can, but does not exclusively, lead to new venture creation.'
Enterprise: Problem Solving, Critical Thinking, Teamwork, Presentation skills, Leadership and Motivation.
Employability: CV Building, Interview Techniques (STAR), Careers Advice, Information and Guidance and Application processes.
Entrepreneurship: Vision Casting, Ideas Generation, Product and or Service Design/Prototyping, Market Testing, Social Capital (Networking), Business Processes (Finance/HR/Marketing etc), Hot-desking and incubation.
The college Entrepreneurship Club is an event driven wider student experience support programme that facilities the development of entrepreneurship skills through ideas generation workshops and provides opportunities internally, externally and internationally to bring these ideas to reality.