Business & Computing
Accounting Technicians - Level 4 Certificate (Accounting Technicians Ireland - ATI)
Start Date: 13th September 2021
Code: YHPM1534A1
Higher Education
Part-Time
Magherafelt
Course Information
We are currently not accepting applications for this course. To make an enquiry or register your interest please email the course contact below. Applications for 2022/23 will open in January 2022.
Essentials
Duration: 1 Year Part-time
Start date: 13th September 2021
End date: 27th May 2022
Day: Mon (online) 6-9pm /Tues (on-campus) 2.30pm-6pm
Information Event: Y

Fee for 2021/2022 Academic Year:
£320
---
Course Content
The Level 4 Certificate in Accounting Technicians course is designed for those who wish to pursue a formal qualification in this field. If you are involved in cash management, payroll, credit control or budgeting then this course can enhance your career prospects. Elements of the programme may be delivered online.
There is an additional certification fee payable to ATI.
---
Where mature students wish to have prior education and/or experience taken into account, in lieu of meeting the full course entry requirements, they should contact the relevant Course Director by 10th August, as an application deadline will apply. Applicants must also refer to further details available online.
---
Upon successful completion, as an accounting technician you may apply to work for many types of organisations such as banks, insurance companies, accountancy firms or local government, or you many continue your studies on the Level 5 Diploma in Accounting Technicians.
---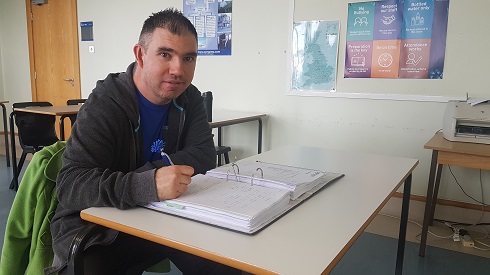 Ciaran Scott

Ciaran Scott from Magherafelt, is currently unemployed and self-funded. He has already a BTEC Level 3 Computing in 2002, completed a HND in Software Engineering Ballymena.
He has had a variety of different jobs in software development but more recently was working in an office doing administration work. He decided to enrol on the Level 4 Certificate in Accounting Technician to improve his employability – although he admits that he is concerned about the exams.
Ciaran, "I'm not good at exams but I'm good at numbers and hope that this Higher Level Apprenticeship could lead to employment."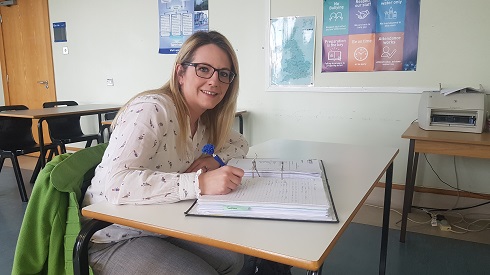 Kara Mitchell

Kara Mitchell is an Accounts manager with KDM Hire Ltd in Cookstown and is sponsored by employer for the Level 4 Certificate in Accounting Technician.
Kara admits that it took her a while to figure out what she wanted to do but now that she's studyinging the Level 4 Certificate in Accounting Technician (ATI), feels that she has it sussed.
Kara explains, "I think you appreciate the opportunities when you are older – because you are doing something because you want to do it, not because you think you should."
After doing GCSEs in St Mary's College Maghera, Kara started a Level 3 Diploma in Health and Social Care at Magherafelt but a year and a half into the course was offered a job as a classroom assistant in the school where she was doing a placement.
Kara continues, "I moved to Scotland and did a HND in Legal Service which was a stepping stone to doing a Law degree at Dundee University but wasn't settled and came back to Northern Ireland with the intention of finishing the Law degree on a part time basis at Jordanstown.
In the meantime though I got a job in an accounts office and switched to doing accounts instead of Law at university but quickly doing realised it wasn't not me. Nothing I was doing in class seemed relevant to what I was doing with work. It was all too general. I decided that I wanted to get a qualification in Accounts and the ATI is the perfect way for me to do this.
The modules are very specific and the course is practical and relevant to my job but it also hard work. I'm getting married this summer and want to have a piece of paper – the ATI is an ideal way to get into accountancy with the right balance of practice and theory. It's tough going but I'm doing it because I want to do it and I think that makes a big difference."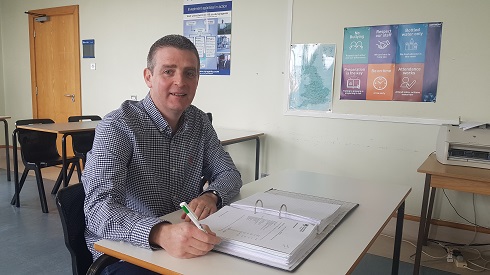 Paddy McEldowney

Paddy McEldowney, is Chief Executive of Easilink Community Transport, and decided to enrol on the Level 4 Certificate in Accounting Technician as he knew it was well recognised and he wanted to freshen up his CV.
Paddy explains, "One day a week I attend Magherafelt from 1pm to 8pm. It is intensive balancing study with work so it is a big commitment working towards exams but I hope that it will pay off. My employer sees the value of having well qualified and committed staff and is paying the course fees. The support is so important and much appreciated."
He continues, "Whenever friends and family ask me why I'm doing the course, I explain that while it is difficult and involves a lot of work, it is enjoyable and hopefully hard work will pay dividends."
22 Moneymore Road
Magherafelt
BT45 6AE
028 7963 2462
Contact
Alyson Scott Send email
Alternatively it is available at the following campuses.