Home / College Life / Campus Redevelopment / Coleraine
Coleraine
Project Update
Planning approval was obtained in June 2019. The project was successfully tendered in early 2020 prior to the outbreak of Covid-19 pandemic and following detailed contractual discussions, the contract was awarded to Heron Bros in November 2020.
The new £25 million campus project involved the complete demolition of the existing campus buildings and decant of services to a refurbished premises at Beresford Avenue for a period of three academic years. The construction phase is well advanced and is on target for completion for March 2024.
The new campus will be open for students at the start of the academic year 2024/25 in September 2024.
Coleraine campus demolition and construction drone footage
November 2020
January 2021
February 2021
15 March 2021
24 March 2021
April 2021
May 2021
September 2021
October 2021
November 2021
December 2021
January 2022
February 2022
March 2022
April 2022
May/June 2022
July 2022
August 2022
October 2022
November 2022
January 2023
February 2023
March 2023
April 2023
May 2023
June 2023
July 2023
August 2023
September 2023
Project Outline
The new, purpose-built campus on the current (but extended) site in Coleraine comprises a number of exciting spaces including, an Innovation Zone, a flexible area that can be adapted for a wide range of activities including cross curriculum project based learning, conferences and performances together with a fully equipped and high quality restaurant and hair and beauty salon, both of which will, at set times, be open to the public to provide our students with the opportunity to train in a realistic environment. The former St Patrick's Church of Ireland Hall will be a self-contained performing arts and music centre. This will be an additional resource not only for the College but for the community.
An important feature of the design for the new campus has been to create a strong link with the town centre through the adjacent Anderson Park and the main entrance facing the park.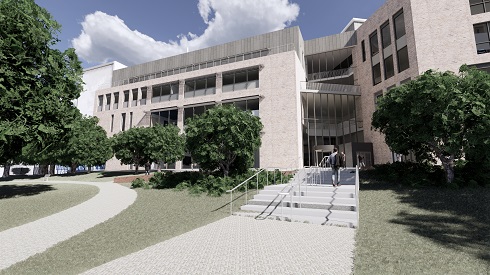 The main entrance will be via an open airy "garden room" which will extend the park space into the building. The landscape design will create an attractive reinvigorated outdoor space accessible to all. This will not only be a benefit to staff and students but also the whole community creating stronger links through to the Town Centre.

(Actual View as of 01/04/2022)
One unified campus will provide efficiencies and other economies of scale benefits, in terms of service delivery and a broader curriculum offer. Bringing the Further Education provision together on one site will strengthen the long-term future of education and training provision in this area.
The College continues to work with students and staff at its Ballymoney and Coleraine Campuses regarding the transition arrangements which will be in place during the building of its new Campus on the existing site at Union Street, Coleraine, due to open for the academic year 2024/25.